Who is Hunger?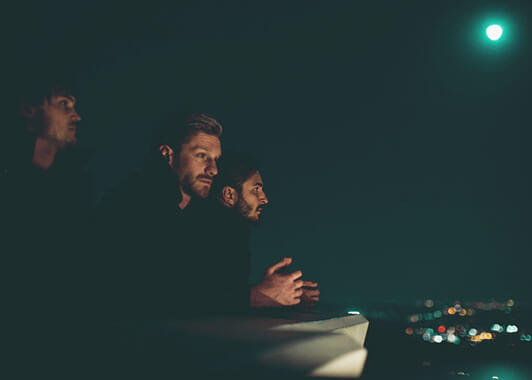 On their full-length debut For Love, Vienna-based trio Hunger turn each track into an intensely sensory experience that's cinematic in scope. Throughout the album, vocalist Lucas Fendrich, guitarist Daniel Rumpel, and bassist/keyboardist Johannes Herbst channel big emotion into a moody but melodic blend of alt-rock and synth-pop. And with lead single "Gravity," Hunger expand on their deeply visual sensibilities by delivering a gorgeously gritty video made in collaboration with Christian Lamb (an acclaimed director known for his work with artists like Coldplay, Bob Dylan, Madonna, Taylor Swift, and Rihanna).
For Love's movie-like feel has much to do with the ingenious creative approach that Hunger adopted upon forming in early 2014. "When we first got together, the idea was to write songs for movie soundtracks—we weren't planning to be a band that would perform live," notes Fendrich. To slip into the soundtrack mindset, the trio set up a screen in their studio, played movies on mute ("usually very dark stuff, like Requiem for a Dream or Drive," Rumpel points out), and set to work on composing music that matched the emotional tone of the film at hand.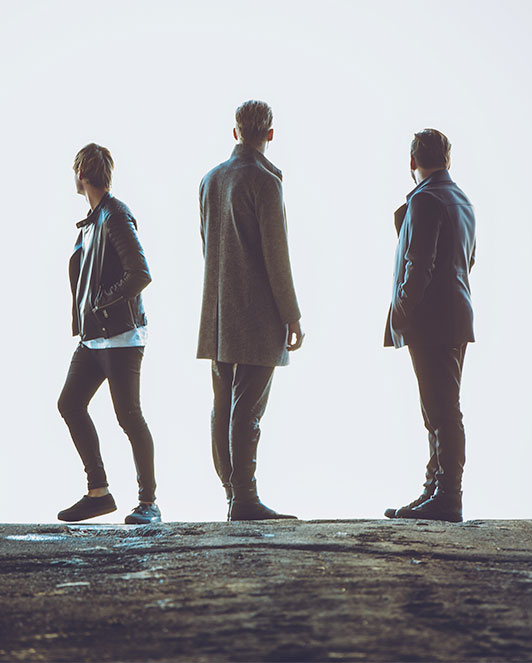 After realizing that the new material was undeniably heavy in hooks, Hunger teamed up with producer Dan Weller (Young Guns, Enter Shikari) and began reshaping that material with powerful beats, elegant melody, and Fendrich's impassioned vocal work. The result is a sublimely nuanced selection of songs, including the anthemic yet hypnotic "Gold," the shimmering and urgent "Amused," and the hard-hitting but heartsick "Gravity" (a song about self-destruction, written in ode to "someone who really wants to be loved but who's lost their way and just needs to escape," according to Fendrich).
Friends since childhood, Fendrich, Rumpel, and Herbst founded Hunger following the dissolution of their former bands. Once they'd developed a batch of demos, the three musicians headed to the outskirts of Vienna, built up a studio in a borrowed apartment, and spent weeks bringing their new songs to life. "The house was very old and near to the forest, with these traditional Austrian countryside vibes," says Rumpel. "During our time there we tried to disconnect from our routine and focus on the music, and the atmosphere really helped us create the mood of the record." While visiting L.A. to shoot the video for "Gravity," Hunger holed up in another house for two weeks and completed the album, with their change of surroundings lending a sleek yet ethereal new layer to For Love.
When it came time to choose a name for their project, the trio landed on a viscerally evocative word with endless possibilities for interpretation. "'Hunger' is such a strong word that can be applied to so many things and really represents how we feel about music," says Rumpel. And when compounded with their album title, the name ultimately serves as a statement of purpose. "Nowadays everybody's hungry for more, everybody's searching for something new—so hunger is usually thought of as a negative," says Fendrich. "We wanted to twist that and turn it into a good feeling. Because if you're hungry for love, then that can actually be something very positive and beautiful."
Meet the Members of Hunger