Who is Hunger?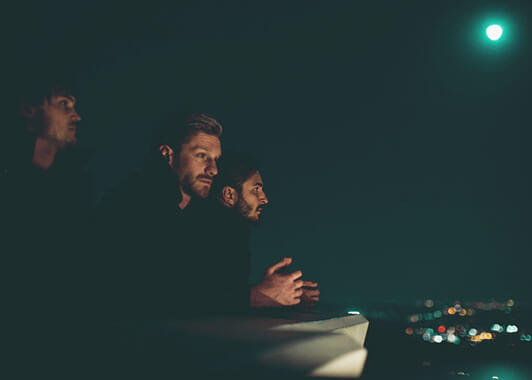 Hailing from the idyllic suburbs of Vienna, HUNGER first formed in early 2014. Childhood friends Daniel Rumpel and Johannes Herbst approached long-term fellow vocalist Lucas Fendrich with the intention of creating a truly dark and cinematic sound. Once they'd developed a batch of demos, the three musicians headed to the outskirts of Vienna, built up a studio in a borrowed apartment and brought their sound to life. They've managed to build multiple successes from their short careers.
Standard song structures and melodies are disregarded in favor of the tone and evocation of the music. Their perspectives shifted when the band went into studio with British producer Dan Weller for their debut EP Amused which also featured a single of the same name. Throughout the EP, Fendrich, Rumpel, and Herbst channel big emotion into a moody but melodic blend of alt-rock and synth-pop, resulting in a vast, dark, cinematic sound. The EP expanded on their deeply visual sensibilities by delivering a gorgeously gritty video for 'Gravity' made in collaboration with Christian Lamb (an acclaimed director known for his work with artists like Childish Gambino, Coldplay, Bob Dylan, Madonna, Taylor Swift, and Rihanna). The single Amused also raked up over 2.5 million streams on Spotify, a Mitsubishi commercial that has run for the entirety of 2018, a feature on 13 Reasons Why and touring opportunities w Against The Current in addition to festival plays with the likes of Alt-J, Phoenix, Feist, Sohn, Milky Chance, and The Strumbellas.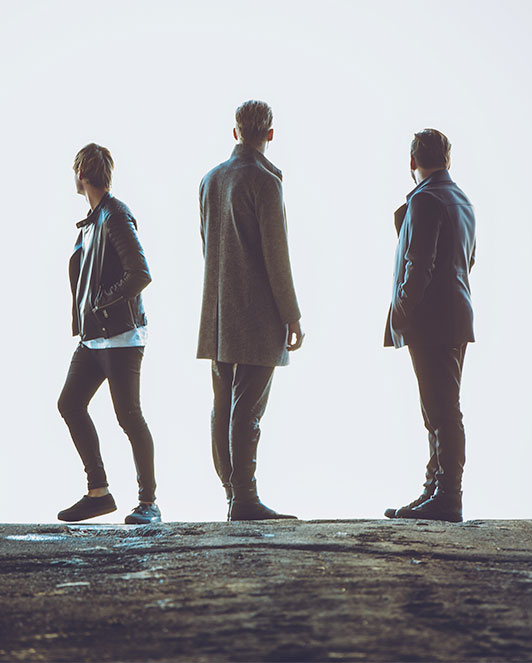 When it came time to choose a name for their project, the trio landed on a viscerally evocative word with endless possibilities for interpretation. "'Hunger' is such a strong word that can be applied to so many things and really represents how we feel about music," says Rumpel. And when compounded with their album title, the name ultimately serves as a statement of purpose. "Nowadays everybody's hungry for more, everybody's searching for something new—so hunger is usually thought of as a negative," says Fendrich. "We wanted to twist that and turn it into a good feeling. Because if you're hungry for love, then that can actually be something very positive and beautiful."
Many have drawn parallels to Imagine Dragons, Coldplay, The 1975, The Neighbourhood and 30 Seconds To Mars, but HUNGER embodies their own sound, as visceral and evocative as their name suggests and continues to bring it to life with a slate of new material that bests their past efforts. The first single, "Naked" is about the inner battle and struggle we all have sometimes. "People tend to question themselves if they're good enough, good looking or smart enough while being put into boxes from other people. Constant judgment in our society these day create a lot of pressure, especially on young people. Naked's message is that 'its ok to be yourself' 'its ok to be weird' 'be who you are' and don't care too much what other people think about you" says Daniel Rumpel.
Meet the Members of Hunger